This exchange between @DavidMuir and Trump on "keeping the oil," sneak attacking Mosul and international law: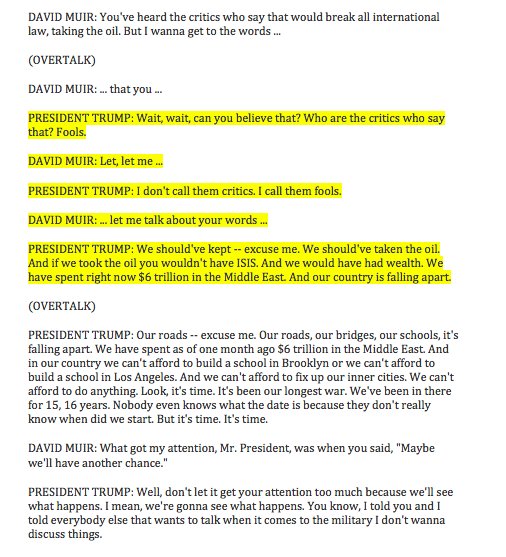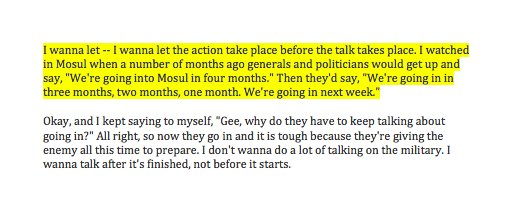 Justice is important in foreign policy, more important than the oligarchs and Machiavellians might think. The Gulf war is not about oil, but about tyranny, as it was when George Bush saw a tyrant with the fourth largest army in the world seize one quarter of the world's oil, in the first Gulf war. Maggie Thatcher, followed by our ow George, said, "This aggression will not stand," and it did not stand.  Then Saddam violated the terms of the treaty ending the Gulf War, by which George would let him stay in Baghdad- since the international community did not want us to go there- if he let us make sure he did not have chemical, biological or nuclear weapons. That is the broader context of the flap about whether Saddam in fact had bad stuff when we went back, and all the way to Baghdad. Fine, we wanted to prevent those charming boys, Oudai and Kusai, from inheriting, you know, for our own selfish reasons- we could not stand to hear the things they did to their own people.
   Otherwise, in his interview Trump said some moderate or publicly admissable Republican platform-type issues, where the Republicans are half right, and we might give him credit for these, also to keep the mean in sight, in order to see his deviation in action. It is indeed a crisis in Chicago, and perhaps time for federal action assisting their State Police. It is also time to drive a wedge between legitimate and illegitimate gun ownership- to figure out how to tell between a gun used for protection from gangs and a gun used in gang violence. We do need to to watch for terrorists entering our nation, but was doing that just fine. In fact, Barack also deported some 2.5 million illegal and criminal aliens, while protecting many five year olds and their parents. The cities and states in fact will not allow this tyrant to harm any residents, and the citizens with rights will protect the aliens without rights. Where he is right, we need to recognize it- I do not yet see much wrong with what he said to that guy with the bad hair who was lobbing stuff into the pacific, that was pretty good- "It wont happen." He also promised to investigate election fraud, since, you know, the integrity of the election process is so important.
   Where he is wrong is in saying that the world is as angry as it gets, so we need not worry if the Muslims get angry with our immigration policy. No, Mr. Trump, the world is yet no where near as angry as it can get. If we torture, our soldiers will be tortured, we will gain little or nothing, and it will cost us a great deal, as what one does to another is also done to him. Again, the question of whether the Russians turned the election to have a moron seated atop our military to their advantage is a bit more important than the battle field plans of some ISIS soldier who probably did not want to be is their team to begin. Do not fear to surrende! But the CLC says: When we capture you, "WAR IS OVER," as Jim Morrison and John Lennon said.